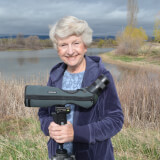 Sue C - Volunteer Naturalist
I signed on to the BCPOS Volunteer Naturalist program in 2001, but, in reality, I have been a "naturalist" my entire life! Every aspect of the natural world intrigues me and, amazingly, it has the power to simultaneously lift me up in awe and take me to my knees in reverence and profound thankfulness! My interests are birds, native plants, geography and their related eponymy and over the last decade I have focused on the field identification and ecology of birds of prey. suzanne m - Volunteer Naturalist Viki L - Volunteer Naturalist
Educated in natural sciences, MS in geology. I worked for the USGS as a field geologist in Mineral Resources for 10 years before stepping back to raise my children. Later I worked in the schools as a para-educator working with gifted kids, special ed, and resource support in high school supporting math and science classes. Now in retirement I volunteer as a raptor nest monitor, burrowing owl monitor and volunteer naturalist for Boulder County as well as with CPW and BCNA.